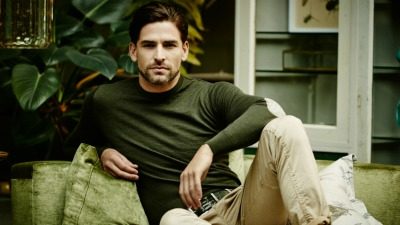 Fashion is one of those things that can change in the blink of an eye, and anyone that follows it knows that what was hot last year could be ice cold this season.
While fashion doesn't change as fast for men as it does for women, mostly because practicality seems to be a bigger concern for designers, it can still be really hard to keep up.
However, if you're a fashionable man, you're going to want to know what fall men's fashion 2015 looks like.
You don't want to be the guy who is wearing the wrong suit at work, the incorrect pair of jeans at the party, or even last season's shoes for a dinner party.
Luckily we are here to help you with the fall men's fashion 2015 trends. Whatever your style, there's something here that can help you look your best in 2015. Read through this guide and you won't have to guess at what will look right this season.
1. Grey Suits are Great
Grey may not be an exciting color to you, but when it comes to fall men's fashion 2015, all the designers are sending their men down the runway in grey suits, from Brioni to Dolce & Gabbana to Lanvin. What's the secret to a great grey suit though, you might be wondering?
When it comes to fall men's fashion 2015 and that elusive perfect grey suit, what you really need is a slim fit with a looser trouser. Think heavy wool and textured jackets and you're right in the ballpark.
Any guy can pull this look off, but it is best worn for work or for more formal nights out on the town.
2. Buy a Big Jacket
Fall is when every designer starts pushing coats for one obvious reason – it's starting to get cold outside! This year, it's all about the loose and slightly oversized wool coat that hangs just above or below the knee.
While the color grey is really popular, we're also seeing tons of texture and plaids from designers like Jil Sander and Zegna. If you do go for a plaid pattern, just keep it simple and make the colors understated.
The big jacket can work on almost any man, but you should choose materials based on how you dress. If you wear suits all the time, pick something refined and just a touch closer to the body. If ripped jeans are your look, go for a big, boho-style jacket that drops down past the knee in a pattern like houndstooth.
3.Get a Knit Sweater
Knit sweaters, a la Ernest Hemingway, have been popular for a few years now. The men's fashion 2015 look is no different when it comes to sweaters.
If you're going to pull it off, go for something in grey, hunter green, plaid or geometric shapes. Avoid crazy prints – they're just not cool.
This look is perfect for the man that wears work boots to work and some rugged denim, but almost anyone can pull it off on the weekends. If you want the best, go for designer names like Missoni, Bally and Christophe LeMaire.
4. Patch It Up
No, we're not telling you to fix up clothes you buy at the thrift store. We're telling you to opt for clothing in the stores that has a patchwork pattern or is made from obviously stitched different pieces of material.
Like the Hemingway sweater, this look can be pretty rugged. Designers like Kolor, Giorgio Armani and Paul Smith are making it more metropolitan though, especially in bright reds, which are very hot this season.
Men from any walk of life can pull these sweaters off with the right pair of slacks or jeans.
5. Go for Green Trousers
If you're drinking coffee you might have just spit it out, but green trousers really are a fixture of the fashion scene when it comes to fall men's fashion 2015. Don't think about the Riddler though – think deep, rich greens. More forest or hunter green than mint.
If you're not sure what to do with green trousers, your best bet is to pair them with a slick blazer or one of those great geometric or Hemingway-style sweaters you've already bought. Keep the legs straight and the hips just a little more open than last season and you'll have the pants every fashionable man will covet in your office.
6. Rugged Denim Is In
Every man needs a good pair of jeans, and while you may not see denim on every runway, that doesn't mean you shouldn't get some. For the fall men's fashion 2015 trends, what you really want is something rugged that looks more like a lumberjack would wear it than a coffee shop worker.
For the most part, that means quality denim in high blue without lots of marks. Buy selvedge denim or quality brands like 7 for All Mankind, Joe's Jeans or AG Jeans.
Men from every profession, city and part of the world can pull this look off, though it may not be right for work. If it is, well, consider yourself lucky. Not every guy gets to wear jeans to work!

7. Red Rules
We've already told you that high blue is really popular, and that your jeans shouldn't be acid washed or oil-stained, at least unless you make them that way. One of the big fall men's fashion trends 2015 will have in store is the color red.
From basic t-shirts to sweaters to knit blazers, you're going to see a lot of red on the runway. Designers like Lanvin, Dolce & Gabbana, Hickey Freeman and John Varvatos are all using it in record numbers.
What kind of man can pull of a red blazer? Almost any man that can wear something with confidence and make everybody in the room feel like they need to buy one. Are you that sort of guy?
If not, stick with a red sweater.
8. Caramel Is Cool
Brown shoes go with everything, right? Almost everything, but this year, you need to swap out your brown shoes for some cool caramel tones. The trend is about more than just shoes though, and there are a lot of different ways to work caramel into your wardrobe.
Caramel suits in a slim-cut are very popular with designers like Lanvin and Hugo Boss, but you'll find lots of caramel bags, belts and even ties in a lot of stores this season.
Any man can wear caramel. Just make sure the piece is appropriate for work or your social life, depending on your particular needs.
9. Think Unisex
This can be a hard one for a lot of guys, but basics like shirts really have a unisex look this season. From the basic pullover with a slant neck to the ruffle-collar red shirt on men in the Gucci show this year, unisex styling is a big part of fall men's fashion 2015.
This look isn't for the business man, but a guy working in a creative field, or working for himself, can pull it off. It can also work at night when nobody is judging your wardrobe – at least not the same way.